Siglent's new SHS800X series is the great new tool for working on service and support cases in the field, outside the lab environment, the SHS800X series delivers the right performance, flexibility and robustness. The handheld multimeter, handheld oscilloscope are standard tools when it comes to signal analysis. Siglent's new SHS800X series of handheld oscilloscopes which delivers benchtop oscilloscope performance in handheld format and also supply a multimeter in the same chassis. They also offer many powerful features and long battery life in a portable, IP51 package.
Serial Bus Decoding Function
SHS800X/SHS1000X displays the decoding through the events list. Bus protocol information can be quickly and intuitively displayed in a tabular format.
UL2054 certified lithium battery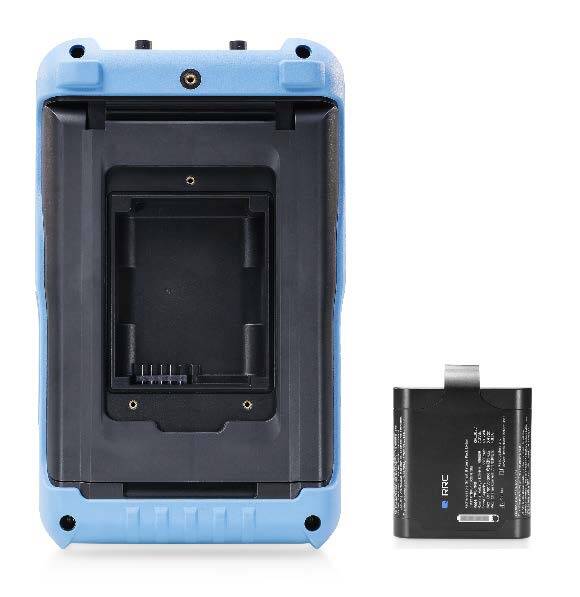 6000 Counts Digital Multimeter
Siglent SHS810X Key Features:
100 MHz bandwidth models Sample rate of 1 GSa/s (single-channel), Sample rate of 500 MSa/s (two-channels). The Siglent
SPO technology:
-Waveform capture rates up to 100,000 wfm/s (normal mode) and 400,000 wfm/s (sequence mode).
-Supports 256-level intensity grading and color temperature.
-Record length up to 12 Mpts.
-Digital trigger system
Intelligent trigger: Edge, Slope, Pulse Width, Window, Runt, Interval, Time out (Dropout), Pattern
Serial bus triggering and decoding (Standard) for IIC, SPI, UART, CAN, and LIN protocols
Video trigger/HDTV
Low background noise with voltage scales from 2 mV/div to 100 V/div
3 one-button shortcuts for Oscilloscope, Multimeter and Recorder functions
8 one-button shortcuts for: Run/Stop, Auto Setup, Default, Measure, Cursors, Display/Persist, Clear Sweep and Print. More function shortcuts available when combined with the shift button.
Segmented acquisition (Sequence) mode, divides the maximum record length into multiple segments (up to 80,000), according to trigger conditions set by the user, with a very small dead time segment to capture the qualifying event.
History waveform record (History) function (maximum recorded waveform length is 80,000 frames).
Automatic measurement function for 38 parameters as well as Measurement Statistics, Zoom, Gating, Math, History and Reference functions.
1 Mpts FFT. Support Peaks and Markers.
Math and measurement functions use all sampled data points (up to 12 Mpts).
Math functions (FFT, addition, subtraction, multiplication, division, integration, differential, square root).
Default key can be customized for user settings or factory "defaults"
Supports Multi-language display and embedded online help.
Security Erase mode.
Search and navigate function.
Includes Recorder mode, including Sample and Measurement Loggers
6000 counts Digital Multimeter, Support DCV, ACV, DCI, ACI, Resistance, Diode, Capacitance, Continuity test.
True RMS AC Voltage/Current measurement multimeter.
5.6-inch TFT-LCD display with 640 * 480 resolution.
Interface types: Isolated USB Host, USB Device (MicroUSB -TMC)
Supports SCPI remote control commands.
UL2054 certified lithium battery pack, 6900 mAh capacity, external charger.
IP Rating: IP51.
Compliance with UL61010-1, UL61010-2-030, UL61010-2-033
Model
SHS810X
SHS820X
SHS1102X
SHS1202X
Bandwidth
100 MHz
200 MHz
100 MHz
200 MHz
Sample rate (Max.)
Two-channel share a single 1 GSa/s ADC. When two channels are enabled, each channel has a maximum sample rate of 500 MSa/s.
When a single channel is active, that channel has a sample rate of 1 GSa/s
Channels
2 analog oscilloscope channels, 1 multimeter channel
Memory depth (Max.)
6 Mpts/CH (dual-channel mode) 12 Mpts/CH (single channel mode)
Waveform capture rate (Max.)
100,000 wfm/s (normal mode), 400,000 wfm/s (sequence mode)
Trigger type
Edge, Slope, Pulse Width, Window, Runt, Interval, Dropout, Pattern, Video
Serial Trigger and decoder
IIC, SPI, UART, CAN, LIN
Data Logger(Recorder)
Sample Logger. The Max sample rate is 25 kSa/s, the Min sample rate is 1 Sa/s
Measurement Logger. The Max interval is 10 minutes, the Min interval is 0.1second. The Max items of logging is 4
I/O
USB Host, USB Device
Max input Voltage (Scope)
CAT II 300 Vrms Between BNC Signal and Protecting Earth
CAT II 30 Vrms Between BNC GND and Protecting Earth
CAT II 300 Vrms Between BNC Signal and BNC GND
CAT III 600 Vrms, CAT II 1000 Vrms Between BNC Signal and Protecting Earth
CAT III 600 Vrms, CAT II 1000 Vrms Between BNC GND and Protecting Earth
CAT III 300 Vrms Between BNC Signal and BNC GND
Max input Voltage (Meter)
CAT III 300 Vrms Between BNC Signal and BNC GND
CAT III 600 Vrms, CAT II 1000 Vrms
Probe
PP510
PP215
PB925
Display
5.6-inch TFT-LCD (640x480)
Weight
Without package 1.75 kg. With package 3.5 kg
Accessoires Included:
1 x Siglent SHS810X Handheld Oscilloscope
1 x 6900 mAh battery
2 x 100 MHz Oscilloscope probes
2 x Current Adapter ( 1 x SCD600MA / 1 x SCD10A )
1 x Multimeter probes set
1 x Power adapter / charger
1 x USB Cable
1 x Quick Start Guide